Unlike most girls out there, i am not too stoked about Fall..I'm more of a Summer girl. I prefer rocking bright colors, wearing sun dresses and tanning at 2 o'clock when the sun burns the most. There's something about Fall that just feels DARK..lol, if that makes sense..Plus, being in Arizona where temperature is still around 90's even 100's, it really is hard to even gear up for it. I won't wear boots just to be "in" when it's a 100 freakin Fahrenheit outside, ya dig?..I wear flip flops, heck i even wear them during winter..that's Arizona..

As for make-up, I've been wearing a lot of neutrals and smoky eyes lately..Of course I still occasionally rock them bright eye shadows, but I've been keeping it on the down low..

Here's a neutral, i guess you can call it my fall look..I don't remember exactly what I used..Lo siento mi chicas..Nothing special though, just neutrals and browns. I went a little heavier on the blush which i like to do when the eyes are so boring..I also paired it with SORTA bold lips, at least to me it is..One day, some day, i will conquer my fear of REAL bold lips..but for now, this is as bold as it can get..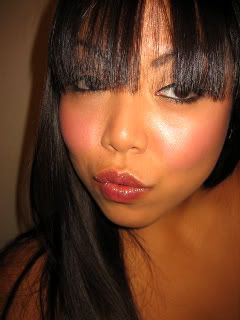 Then here's a smoky eye that is a "regular" too..meaning, i've worn the same look more than twice..You can find the video tutorial here..This one was requested by katie (dimelook)..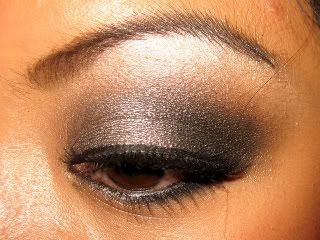 I can't do this entry without a bright look. Since you ladies liked the purple look i posted a few weeks ago, you inspired me to wear it more. here's another version. I tweaked it up a bit though, used Hepcat e/s (gorgeous!!!) and Lovely Lily pigment, foiled as base to add another hue of purple. I also did a tutorial for this look, you can check it out here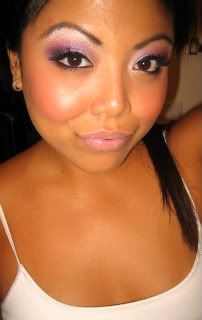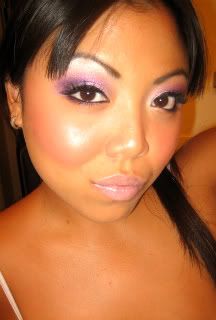 Before i end this post. I'd like to thank all you ladies for your sweet comments regarding Rocky leaving. That makes me feel a lot better knowing that i have you to count on when he leaves..Thank you, Thank you..