Pink's Kawaii Challenge

This is my first time ever joining or participating a challenge..I was a bit hesitant to join after seeing other ladies' entries, so creative. But my boyfriend who is ever so supportive convinced me to join, telling me that i can totally do it. I'm happy that i did. I had a lot of fun doing this look, definitely not your normal FOTD..lol..It took me about 2 hours to do this look, i just kept on adding and adding more make-up, glitter and lashes..I like how it came out though, I'm even considering doing this for halloween..lol..

Arigatou to Ms. Pink for coming up with this challenge!

Products Used:
FACE:
Boots No. 7 Foundation in Suede
Nichido Loose Translucent Powder (to set foundie)
A whole lota Wet N Wild Bronzer
MAC Fashion Frenzy blush
Revlon Silver eyeshadow (highlight)
MAC CCB in Pearl
MAC 3D Silver Glitter

EYES:
NYX Jumbo Pencil in Milk
MAC Silver Fog pig.
Revlon Colorstay l/l
2 pairs of Leif eyelashes
Random Individual lashes (lower lashline)
Rimmel White kohl Pencil
Jordana Black e/l

Lips:
MAC Fleshspot l/s
NYX Clear gloss

Ok, so without further ado, I give you my ganguro look..

WARNING: I got snap happy. Cam-whore in action..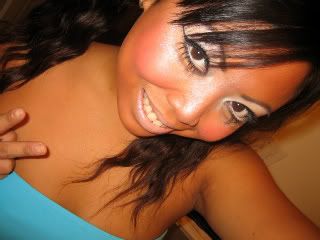 LOL..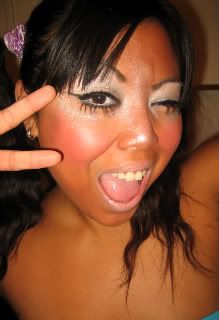 i got carried away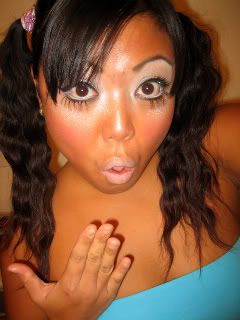 I used 2 pairs of Lashes top, and 7 individual ones on the bottom..



Twiggy gone Kawaii



So there you have it..Wish me luck my lovelies!

Check out Pink's blogspot for other entries!