So i got my tattoo yesterday..

I've been wanting one ever since i can remember..it just took me forever to actually decide on what to get..the only dilemma *last minute* i had was what font to get it in, i was leaning towards Old English cuz i thought Latin would be nice written in Old English, my boyfriend was totally against it, he said it's too gangsta..haha..then when i was looking at fonts (in the parlor) i saw "libra font" and thought it's actually pretty cool, and I'm a Libra too so i got that instead..plus the tattoo artist said, his exact words "I'm a tattoo artist and the ones i see getting Old English are Gangsta, Gang-Bang Motherfuckers"..lol..

So here are the pics and one of the videos, my friend made sure that this experience of mine was well-documented.

Before leaving the house..cam-whore..this has been the face I've been wearing lately, that explains why i haven't posted new FOTDs..i also stopped wearing foundation, just 'cause..me and foundation have like a love-hate relationship..lol..




One last look at my bare back..



Signing my life away, according to my friend..lol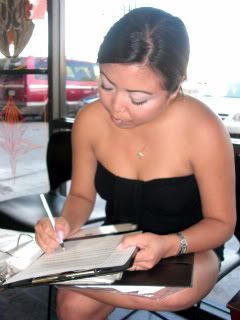 Just putting on the stencil..Can you see the excitement on my face?..lol



smoke break before getting it DONE..



ready?



i ain't gonna lie, bitch hurt a lot in the middle part..


..i had to bust out my iPod cuz the "buzz" bothered me..




dirty and DONE..it only took less than 30 minutes..fast, huh?



whew..all covered and shit..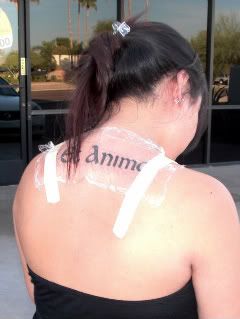 Finished Product..



It's latin for "With heart and Soul" or "Strength with courage" *source:wikipedia*



Overall experience, it was fun..I'm soo excited about it..lol..and the pain?..it wasn't as bad as i thought it would be..before i got it, i actually thought i was gonna cry and not be able to take it..Not a single damn tear..haha..the annoying part is having to wash it every 4 hours..*sigh*..i gotta do what i gotta do..

My boyfriend, of course only saw pictures, at first he didn't like it and thought it was a lil too big than he expected, but he said as long as i like it, he's happy..lol..i just didn't want to get a small one and be like "Damn, i should've gotten it bigger!" later on..so i'm really happy with the outcome..

this is my first but definitely not my last..

P.S.
I just want to say thank you for all the nice comments you left me on my previous post..MwahMwah!!..I'm trying to get back at all ya'll, sorry if i haven't yet..I'm getting my ass on it..

♥
MaNdiLiCiouS