WARNING: This post is a bit pic heavy.

I've been meaning to do this post for awhile now, just never really got around to doing it til now. Nessa's post on her make-up collection also inspired me to do mine. It's been about a year or less since I started collecting MAC..It was around October when i first bought MAC eye shadows, Gold Mine and Black Tied *I still remember* although it wasn't 'til January when I started going all out with buying MAC, collection after collection, $200 there, $300 here, bla bla bla..It was Fafi when i went all out and spent almost $600, I feel stupid for it now, I don't even use half of the stuff I got from that collection..I've also kept the receipts from every MAC purchase, and let me tell you, I am not proud, shamed, actually..Oh well..I've changed..A LOT!..I cut way back on my make-up spending..I know how to control myself now. I don't feel like I have to get almost everything every time MAC comes out with new stuff, which is like every 2 weeks. I get that they recycle/repromote stuff every so often which is why I don't feel like I'm missing out when I don't get everything. Also, when I buy something, for example, an eye shadow, I make sure (at least try to) that i don't have anything similar. Like Nessa said, How many variations of Deep Truth do we really need?..Don't get me wrong though, I still buy stuff here and there, I'm present every time a new collection is out, let's just say, I'm smarter now..lol

By the way, I didn't include my other make-up from different brands like, Smashbox, Nyx, Stila, Micabella, and other drugstore brands. I only focused on my MAC collection.

So without further ado..My MAC Collection '08
My eye shadows..



My Pigments and Glitters..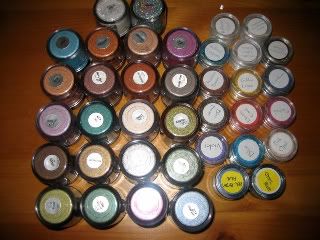 My Paint Pots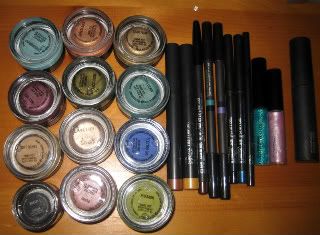 My Blushes and Highlighters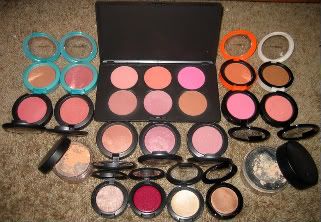 My Beauty Powders, MSFs and Sculpt and Shape Powder



My Face Stuff (Foundations, Concealers, Fix *, Strobe Cream and Charged Waters)and Back Up Brush Cleanser



and finally,

My Brushes (full size and Special Edition)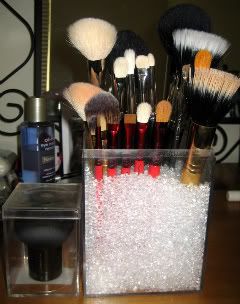 Whew!..That was hard work..It will take me awhile before I do this again..

I know, I know, I still have a lot of updating to do, a couple of tag games, and a bunch of comments to leave at all y'alls pages..

Oh before I forget, my boyfriend's departure was moved a few days later..He was supposed to leave tomorrow, but won't be leaving til Monday. So, we still have one more weekend to go..Yay! I work tomorrow though..11 hours..boo!