This is the look I wore to work last Friday..It may be a little too dramatic to those who work in a corporate office, but I work in retail so it was okay..My co-workers actually loved it!

This is sort of a toned-down version of a smoky eye..I think i've mentioned before that i have never rocked a genuine smoky eye, meaning black e/s on main lid area. i don't know what it is, but i am intimidated by that look as much i am by red lipstick..

Face: all MAC
Mineralize Satinfinish NC 42
Select Moisturecover NW 30
Studio Finish NW 35
MSF Natural Med Dark
Blot/Loose Powder Med Dark

Eyes: all MAC unless specified
Bare Study p/p
Sweet Sienna p/m
Cork e/s
Carbon e/s
Shroom e/s
Graphblack t/k
HIP Steely paint
Colorstay l/l
Colossal Mascara
Ardell Demi-Whispies

Cheeks:
Too-Faced Sun Bunny
MAC True Romantic BPB (still my fave blush)

Lips: all MAC
Fleshspot l/s
Sugar Trance l/g
Bonut Beat l/g

Pardon the glue in the lashes..I still need more practice..




Cam-whored much?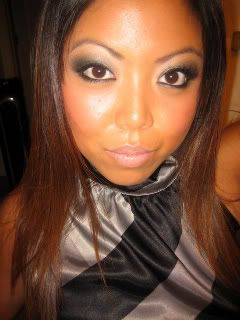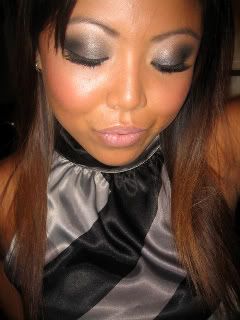 the top is from Charlotte Russe, i got it for $6..great deal..especially for something that i will probably wear once or maybe twice the most..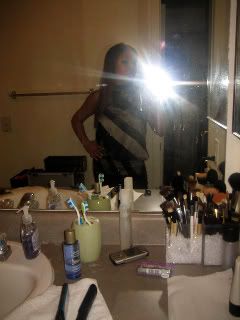 ..excuse the mess..



Oh and I've been doing really good with my no buy..well, i can't say i didn't buy anything but i consider 1 MAC product, 1 $8 dollar dress from Macy's and 1 pair of Steve Maddens in 2 weeks nothing compared to how i used to spend money..so i'd like to say I've been really good..But the bf promised to take me MAC shopping when he comes back so we'll see how that goes.. Ooooh..i'm excited..i feel like I've been deprived of MAC for so long..haha..

That's all for now..

Gaaah..it's Monday again..Oh how i hate Mondays..2 days off are not enough..but the bf comes back from military training on Tuesday, so yay!..