No..more like 2 weeks..Sorry..it's been so hectic, work-wise as well as my social life..

I just thought i'd do an update of what's been happening these past couple of weeks..FOTDs included, i just might not be able to remember all the products used, but i'll try!

BEWARE: Uber-long post!

Last weekend was a blast, we hung out with our friends and chilled the whole weekend..We had a bbq/pool party at our new place..Food and Swimming's always fun!..The rest of that weekend was just Rock Band and more swimming, but at our friend's place instead..God, i love Rock Band..lol..We (my friends and i) all chipped in to buy Rock Band and an extra guitar..Mind you, most of us are in our 20's..lol..but that's how we roll!..

here are pics from our pool party

It was so hot our sliced cheese melted into one whole blabber of cheese..Of course, me and my ugly no make-up self..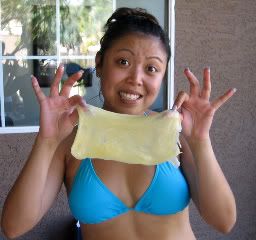 The bf and I



Need to lose weight, seriously!



My boys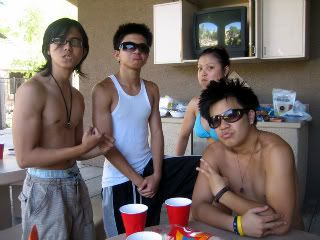 The crew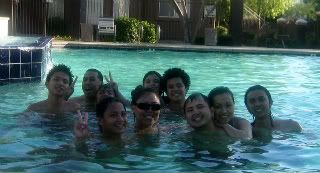 And another one of bf and i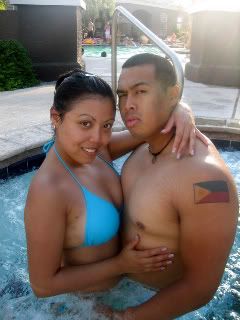 Here's a short video of us playing "Enter Sandman" *sorry for the constant switch of the camera view*

Vocals: Rocky
Lead Guitar: Romeo
Bass: Mae
Drums: Yours Truly



***i am so bummed right now, my fabulous dog just knocked down my tv tray where my laptop sits, of course lappy fell face down, and it bent the hell out of my USB for my mouse..GRR!

Ok so on to the FOTDs
which by the way is taking me forever to upload and edit..i seriously need a secretary, then everything would be so much easier..lol..i'd be posting every day..lol..now i miss the Philippines, where we had maids who did everything for me..

enough of the rambling, on to the FOTDs forrealss!

Old Gold FOTD

I got this pigment during the 15% off at MAC..that was a good deal..*i'll post a picture of that haul too*..i used this a few days after i got it..i opened the jar, only to find out that almost 50% of the product's gone..i was like WTF seriously..i've thrown the box away already..BUMMER!

FACE:
Maybelline Foundation
MAC Select Moisturecover
MAC MSF Natural in Medium Dark

Cheeks:
Too-Faced Sun Bunny
MAC Eversun BPB
MAC New Vegas MSF

Eyes: all MAC unless specified
Bare Study p/p
Old Gold p/m
Club e/s
Handwritten e/s
I forgot the higlight color, but it's probably Ricepaper
Graphblack Technakohl
Plushlash
Lingering Brow Pencil
HIP liner in black
Too-Faced Lash Injection

Lips:
I forgot, but it looks like MAC's Bateaux Lustreglass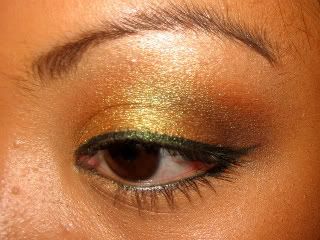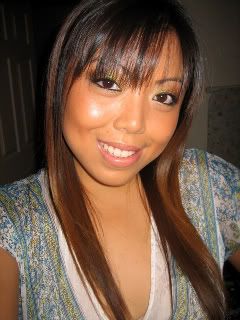 My Outfit that day..Gaaah, were those wedges high!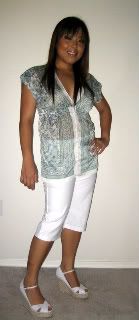 Pink Bronze

Eyes: all MAC unless specified
Soft Ochre p/p
Pink Bronze p/m
Brown Script e/s
Handwritten e/s
Vanilla p/m
Graphblack Technakohl
Plushlash
Too-Faced Lash Injection

Cheeks:
Too-Faced Sun Bunny
MAC Spaced Out Blush
MAC New Vegas MSF

Lips:
MAC High 90's s/s
MAC Sock Hop l/g
MAC Steppin Out d/g

Sorry for the blurry pic



Cool Heat
ok so i hauled a lil bit of Cool Heat which sucked because i did it before i received the 15% off coupon for MAC..another grr..

Eyes: MAC
Soft Ochre p/p
Rollickin p/p
Cool Heat e/s
Brown Script e/s
Handwritten e/s
Ricepaper e/s
Smooth Blue Technakohl
Graphblack Technakohl
Lingering Brow Pencil
PlushLash
Too-Faced Lash Injection
HIP Liner in black

Cheeks:
Too-Faced Sun Bunny
MAC Warmed MSF
MAC New Vegas MSF

Lips: MAC
Not So Innocent l/s
Sugar Trance l/g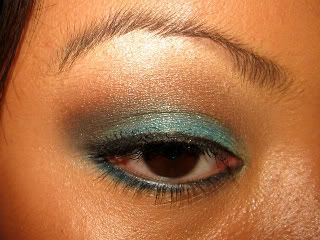 Lovely Lily and Climate Blue (which is btw, a violet, a gorgeous one)

Eyes: all MAC unless specified
Soft Ochre p/p
Lovely Lily p/m
Fertile e/s
Climate Blue e/s
Carbon e/s
Shore Leave e/s
Graphblack Technakohl
Plushlash
Lingering Brow Pencil
Micabella Shout mineral e/s
HIP liner in Black
Too-Face LI

Cheeks:
Too-Faced Sun Bunny
MAC True Romantic BPB

Lips:
Buoy o Buoy l/s
Comet Blue d/g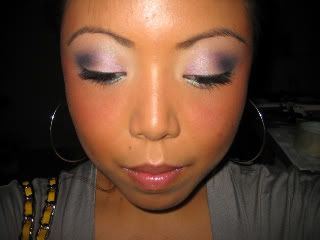 ..i don't know either..lol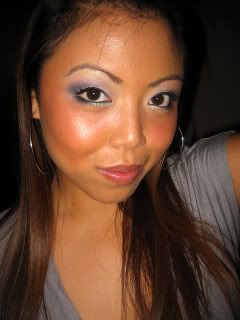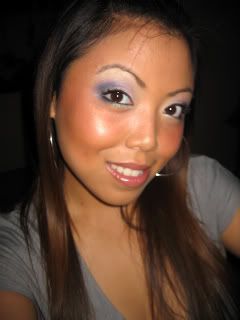 That's it..

Then my Cool Heat and 15% off sale haul.. not much..total was like $260..$100 for Cool Heat then another $160 for the sale haul..with the discount i felt like i was saving money..well..not really..whatever..lol..




Let me brag *lol* my growing MAC brush collection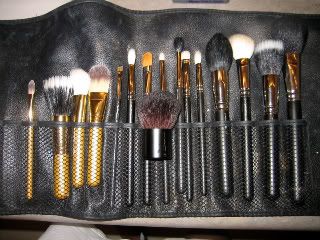 Then my other brushes from different brands like Sonia Kashuk, Essence of Beauty, Michael's and STudio Tools..



**random**
i got my nails done too, a couple of weeks ago..it's 3D glitter inspired..this is just my 2nd time ever getting acrylics, i hated the first time which was like a year ago, but i am definitely loving this one..i guess it's just a matter of where you get it done, if they're good or not..2 weeks and they're still intact!..it's good to know that my $40 has not gone to waste!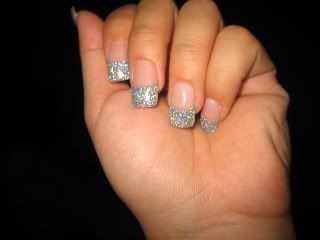 ..but oh my, is it hard to type with them!



WHEW..Long, Rambling, Pic Heavy post, wasn't it?



♥
MaNdiLiCioUs