I am seriously out of color combo ideas!..I didn't like this one that much..Thought i'd post it anyway..whatever..hehe..

Products Used:

FACE:
MAC Mineralize Satinfinish in NC 37 (mixed with..)
Aveeno SPF 15 Moisturizer
MAC Studio Finish concealer in NW 30
Maybelline Mineral Power concealer


Eyes: all MAC unless stated otherwise
Soft Ochre p/p
Rollickin' p/p
Parrot e/s
Charred e/s
Ricepaper e/s
Pop Blue Soft Sparkle pencil (base for Parrot e/s-inner lower lash line)
Graphblack Technakohl
NYX Suede (brows)
HIP cream liner in black
Maybelline Great Lash

Cheeks: all MAC
True Romantic BPB
Light Flush MSF

Lips:
MAC Full on Lust l/g





I love Jabbawockeez..lol
I tried Queen Helene's Mint Julep Mask..
very unflattering picture, i must say!



and just look how ginormous my pores are..GROSS!



now, my bare naked face..after i washed the mask off..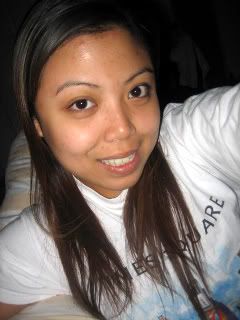 I still haven't posted my 6 random facts and things i'm passionate about, etc..sorry!..i'm not being a good player..lol...

Also, i'm so excited, i feel like i haven't hauled MAC for the longest time..since Heatherette came out..:( BUT, i'm going to on Saturday..I also plan to get a make-over from Leesha so that should be fun..

One more day to go til weekend, hang in there ladies!

♥
MaNdiLiCiouS!