i did this awhile back, but only posted it on Specktra.net..but since i've been gone for like forever, i figured i needed Copy/Paste's help..lol

Products Used: all MAC unless otherwise stated
FACE:
Mineralize Satinfinish NC 37
Studo Finish Concealer NW 30
Blot/loose powder in Medium Dark
Maybelline Mineral Power Concealer

Eyes:
Bare Study p/p
Other Worldy p/p
Heatherette Trio 1
::Mood Ring
::Cloudburst
::Hoppin'
Pink Pearl pigment
Dual Edge Pencil
::Pop BLue
::Black Funk
L'oreal HIP liner in black
Maybelline Define-A-Lash black
NYX Suede e/s (brows)

Cheeks:
Accentuate/Sculpt (contour)
True Romantic BPB
Shell Pearl BP

Lips:
Lollipop Lovin' l/s
Bonus Beat l/g

Let's get started..

Start with a clean, moisturized face, as always..



Conceal dark under eye circles (i blend Maybelline and MAC together with MAC 194 brush)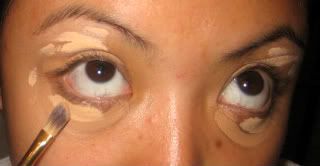 Now, apply your foundation with MAC 187 in stippling motions, then light buffing to get rid of streaks



Foundation and Concealer-DONE! (i didn't set with powder yet, i want my foundation to remain malleable until i'm almost done with the eyes)



i applied Bare Study p/p all over the lid (i used MAC 252)



Then i applied Other Worldly p/p on lower half of the lid as base for mood ring e/s with Studio Tools concealer brush (this will help intensify mood ring e/s)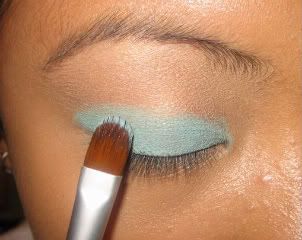 i then applied mood ring e/s over Other Worldly p/p with a MAC 239 brush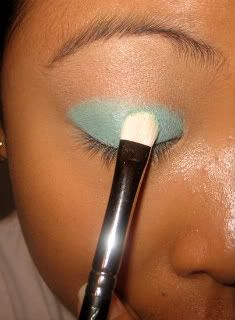 it should look like this..



then with a MAC 219 pencil brush, i applied Cloudburst in the outer v and in the crease half way..



'un'blended, it looks like this..



Now blend and soften harsh lines with a MAC 224 blending brush



it should look like this so far..



Now take another blending/crease brush, sweep Pink Pearl pigment onto the crease, blend with cloudburst, this will also help soften cloudburst more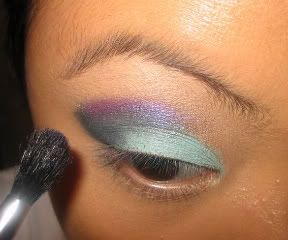 like this..



Now apply Hoppin' e/s with a 239 brush (sorry for the blurry pic)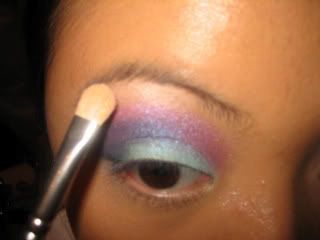 i now fill in my brows with NYX Suede e/s using a Sephora #10 brush



then i lined my upper lash line with L'oreal HIP cream liner in black using MAC 208 angled brush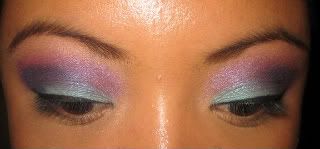 before i proceed further with lining my bottom lash line, i set my foundation with blot/loose powder using a MAC 150 powder brush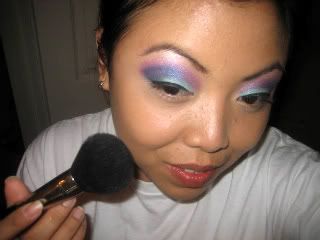 then now i proceed with lining my bottom lash line with soft sparkle pencil in pop blue (this will act as base for pink pearl pigment)



with a pencil brush i applied pink pearl pigment on top of pop blue pencil (blended, it looks more purple than pink)



i then lined my waterline with Black Funk pencil (uber soft and creamy)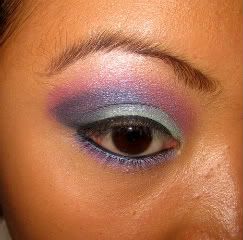 I curled my lashes with Shu Uemura lash curler then applied Plushlash in Plushblack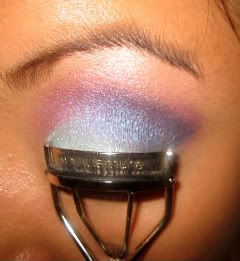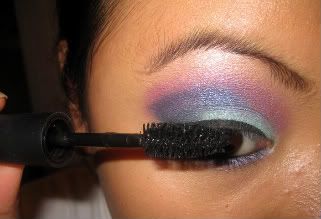 This is how it look so far..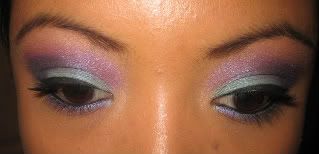 let's move on to the rest of the face..

i applied True Romantic BPB using a MAC 138 brush=LOVE!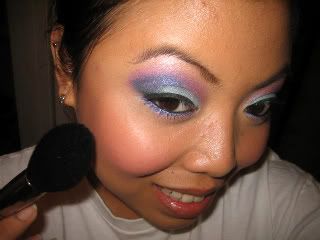 i then contoured my cheeks with Sculpt powder using MAC 168 angled contour brush



Now the lips..

i applied Lollipop Lovin'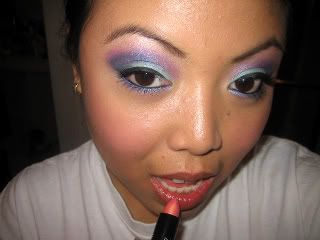 then Bonus Beat l/g for extra shine



DONE!!..Cam-whore away..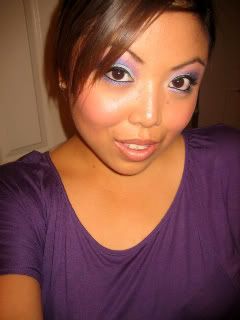 i think squishy faces are very flattering..lol



when in doubt, pout!..



and then cheeze it!



I hope this makes up for my long absence..i have another entry that i still have to finish..i'll probably be able to post it later tonight..i missed all of you!..

♥
MaNdiLiCiOuS