I visited maccosmetics.com earlier just to see what they're sold out of, then i saw that they "restocked" everything..meaning, all products are available again. So if you haven't grabbed your Heatherette yet, now is the best time to do so!..

Now, my dilemma..

hmm..the title says it all..I'm trying to talk myself out of buying Trio 2, because i already have similar colors from MAC as well..BUT..no matter what, there's still something telling me that I MUST GET IT!..ay yay yay!..help out a sister!

Products Used:

Face:
Maybelline Mineral Power Liquid Foundation "Natural Beige"
MAC Studio Finish concealer "NW 30"
Maybelline Mineral Power Concealer
MAC Blot/Loose Powder "Medium Dark"

Eyes: all MAC unless stated otherwise
Perky p/p
Pink Venus e/s (in place for V.I.P. e/s)
Pink Pearl pigment
Fertile e/s (exactly like Cassette from Heatherette Trio 2, this came out with Strange Hybrid, i think)
Dual Edge Pencil:
Fab Orchid
Dash Lily
Hoppin' e/s (Trio 1, in place for Baby Petals)
NYX Suede e/s (brows)
L'oreal HIP cream liner "black"
Plushlash "Plushblack"

CHeeks:
MAC Sweetness BPB
MAC Shell Pearl BP

Lips:
Fun N Sexy l/s
Starlet Kiss l/g




sorry for the ghetto ass shirt..lol..didn't bother changing since i had nowhere to go



for the love of MAC 138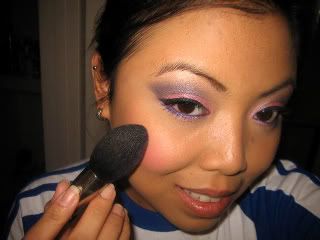 of course, dorky pic!..this showed the colors very well though!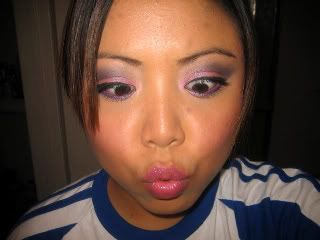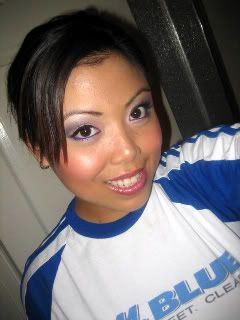 i actually have a step by step pic tutorial for this..i'll post later..: ) Btw, this again was inspired by xsparkage's Heatherette Trio 2 tutorial..

So, ladies?..what do ya'll think, should i get it or not?..Hmm..help!..:/ I need your input on this..especially those who got Trio 2!..:) thanks!!..