..for the sake of updating..lol..

i feel kinda bad that i haven't posted anything lately, so here goes.

Holidays..i was kinda feeling scrooge-y this year, didn't feel like celebrating Christmas..i don't know why, but, i just didn't.. : s ..so, we weren't planning on getting anybody anything, but we did anyways..so that means LAST MINUTE shopping..

OMG..please remind me to not ever do that..oh boy, was it TIRING..the bf and i did ours on "the eve of Christmas Eve"..and i'll never do that again..PERIOD!..haha..i seriously wanted to pull all of my hair out, coz it was just frrrrreaking crazy..parking, the malls, the people, the long-*ss lines..waaaaah...we actually ended up spending more coz we just wanted to, like, get it over with..
..so that was really tiring, on top of that, after finishing wrapping all the presents at 3am, i had to work at 6..so basically i only had like 2 hours of sleep. then of course, the Christmas Eve dinner, didn't get home until like 3am..then had to work again the following day *yup, on Christmas day* at 6am!..so i only had like 4 hours total of sleep for 2 days..THEN..i got sick, i guess my body was just telling me, "yo, you need to rest"..that really sucked, coz i don't usually get sick, and that was actually the first time i got sick since i moved here from the Philippines which was, uhm..like..1 yr. and 6 mos ago.. oh well..*sigh*

oh..during our last minute Christmas shopping, i also got some NYX stuff..it's just an itsy bitsy tiny haul though..i was "saving" for my trip to the MAC pro store at Vegas..here..yep, i am still in Vegas..

Christmas Eve's FOTN..was nothing new..i just did the Smokey Green look, i made it kinda darker though.

Products Used: were the same as the products used on the pic tutorial, except for the foundation, i used MAC Mineralize SatinFinish in NC 37 *i only wear liquid foundation on night/special occassions..i used a 187 to apply it because i don't want the "heavy feel" liquid foundation usually brings.

Pictures: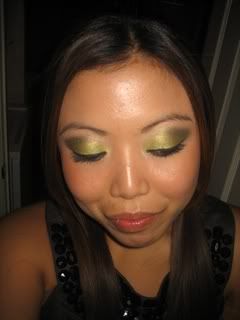 with my favorite friend: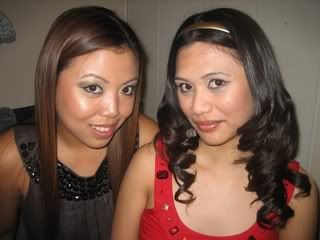 with some of "the crew"



you can also visit my multiply site for more pictures.