On my last entry, i mentioned that i was in Vegas..Yep, we made it to Vegas..struggling, but we did..LOL..let's just say that WE (all of us) had issues..one was, all of us were sick..coughing, runny nose, fevers and what-not. i really thought we weren't going. we only were sure of going the night before our planned departure, so just think about how last minute everything was..packing, renting the car, etc..

the only thing i was excited about was going to CCO and the MAC Pro store..**coz Arizona's gay and we don't have neither..boo hoo..

I'll babble a lil more about the whole trip then show you pictures *FOTDs too*..

So, we left at around 6:30 am **we were supposed to leave an hour earlier, but oh well, if you are familiar with how Filipinos are, then you'd know 6:30 is still on time..anybody familiar with the term "Filipino time"?..5 hours later, we arrive Vegas.

we all were still sick..no exaggeration, i'm talking about, each every single person in our group. we ate lunch at DJ's Bibingkahan, one of Vegas' famous Filipino restaurants, nothing special though, they just had like gazillion viands to choose from. after that was SHOPPING time. we went to the Boulevard..we "discovered" a new *well at least to us it is* store, Heritage 1981 which is also owned by the same company who owns Forever21, i think the lady said it's like the brand which replaced Rampage..gaaah i didn't even know that doesn't exist anymore..so anyhoo, we were all amazed how cheap everything was, i didn't go TOO crazy though, i still had the Pro store and the CCO in mind. When we got home, we just started getting ready to go to the club. My friend was able to put us in Tao's guest list. as i've said earlier, i will also include FOTDs/FOTNs in this entry, just let me babble some more..haha..ok so we got ready and everything, however, when we got there, the guest list already closed so, we decided not to go anymore. we just had a "pictorial" everywhere, so we didn't get ready for nothing, right?..

Second day, ate at Pinoy Pinay, then went shopping again.

Third day, New Year's Eve, the bf and i went to LVPO (Las Vegas Premium Outlet), as i've said, going to the CCO was one of the reason why i wanted to go to Vegas. I got a lil bit disappointed though, coz i was expecting to see Barbie Loves MAC (which came out awhile back, i wasn't into MAC yet) and also the C-Shock collection (which came out a few months ago, i think)..i didn't see not one product from either collections, i didn't bother to check the lip stuff though..hmm..i got almost all the eye shadows they have except for a couple, i think, that had lustre finish. i also got a couple shadesticks, studio stick concealer, charged water, loose blot powder, all the blushes they have, not too much right?..MAC whores, back me up on this. i'll post pics below too..ok, so you can just imagine how blissful i was..

Anyhoo, later that night, we just walked around the strip together with 909283470 others..LOL..it was fun though, we had like our own party, random people screaming and dancing with us..crazy but a lot of fun. ok, i don't want to bore you with all these babbling, it already has taken me i don't know how many days already because of my babbling..let's get on with the pictures..

Saturday's FOTN

Face:
MAC Mineralize Satinfinish in NC37
Nichido Loose Powder in So Natural
Maybelline Coverstick Concealer in Light Beige

Eyes:
MAC p/p Bare Study
MAC Mcqueen p/p Other Worldy
MAC McQueen p/p Electro Sky
MAC Mcqueen e/s Haunting
NYX Aquamarine Trio (all three colors)
MAC e/s Black Tied
MAC e/s Ricepaper (highlight)
L'oreal HIP cream liner black
MAC Graphblack Technakohl (waterline)
NYX e/s Suede (brows)
NYC false lashes 974A


Cheeks: (i'm not so sure though but this is what i remember)
NYX Blush Terra Cotta (apples)
NYX Blush Cocoa (contour)
MAC McQueen New Vegas MSF (highlight)

Lips: (didn't do a touch up before i took the pic..sorry)
Chapstick in Strawberry
NYX Brush On Gloss-Killer Lips (i am seriously loving this l/g)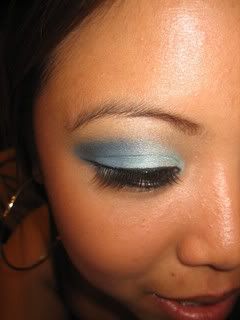 Sunday's FOTD (my favorite "natural look")

Face: (same as above, except for the foundation and blush)
L'oreal Bare Naturale in Nude Beige
Revlon Pinch Me in Cheeky Cherry

Eyes:
MAC Bare Study p/p
Charlotte Russe Minerals-no labels but it's the "golds" stack, i used the darkest one, last pot (bronzy)
MAC Matte2 Handwritten e/s (i ♥ this e/s)
MAC Ricepaper
NYX suede (brows)
L'oreal HIP cream liner black
MAC Graphblack Technakohl
Covergirl LashBlast

Lips:
same as above

i can't find a decent face picture..sorry..i will post this look again..soon..



New Year's Eve FOTN

Face:
Foundation,concealer and loose powder same as Saturday's FOTN

Eyes:
MAC Bare Study p/p
MAC Cranberry e/s
MAC Black Tied e/s
MAC Ricepaper e/s
L'oreal HIP cream liner black
MAC Graphblack Technakohl (waterline)
NYX e/s Suede (brows)
Covergirl LashBlast black

Cheeks:
MAC Beauty Powder - Shell Pearl
MAC McQueen New Vegas MSF
i can't remember if i contoured my cheeks, but if i did, it would be, NYX Blush in Cocoa

Lips:
same as above (told you i am loving NYX's Killer Lips)

i couldn't find a decent face pic again..darn!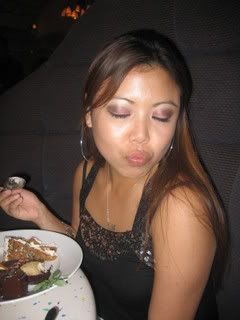 i also have another FOTD for Tuesday, but i saw the pictures i took, i look like a dork in most of them so i didn't bother posting 'em on here..

Ok, Now, the HAUL

MAC Pro Store Haul:

First, the store:

i felt like i heard the heavens sing when i saw the store, *sigh*, it was just pure bliss



The Haul:
109
224
208
15 Pro Palette

Eyeshadows:

Parrot (The Originals)

Blue Calm (Pro color)

Bio Green

Woodwinked (this was actually a Christmas gift)
Refill Pans:

Flashtrack

Amber Lights

Twinks

Humid
MES- Family Silver
Cream Colour Base- Fawntastic
Sculpt and Shape- Accentuate/Sculpt
Beauty Powder/Loose- Drizzlegold
Fix+
Eye Kohl- Teddy (Christmas gift too, together with Woodwinked e/s)




i'm a happy camper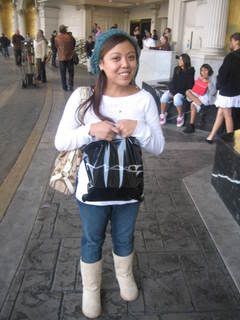 CCO haul:
Pandamonium Quad
Beauty Powder- Shell Pearl
Blot Loose Powder- Medium Dark
BlushCreame Pearl- Maidenchant
BlushCreame Pearl- Lune
Sheertone Shimmer Blush- Other Worldy

Eyeshadows:

Overgrown

Bateau

In Living Pink

Mancatcher

Cranberry
Shadesticks:

Studio Stick Concealer
Charged Water- Renewal Defense




And altogether, my sweeeet Vegas Haul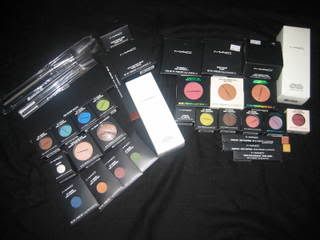 So, can you tell i had a lot of fun on that trip..hehe..can't wait to go back..i can't help it, i'm addicted..