Yay for day off, gaah i am so burned out with my job already, 2 days off is not enough anymore..so i am so relieved that i am off today, the bf however isn't, i know, bummer.. i wanted to do something before he goes to work so we just ended up going to the mall. there's not much that we can do anyway, since we're pressed for time. I didn't go crazy though, like i always do, Charlotte Russe had a good deal, 5 for $20 i got three dressy tops, a sweater and pretty pretty dress, which is my favorite out of the all the stuff that i got..Anyways, after Charlotte Russe we went straight to Nordstroms to get a few stuff from MAC..a few, ok.. ;) I wanted to get reflects antique gold but sadly, they didn't have it, all they had left is the pink one, which didn't really interest me. They had like 3 other pigments on display that weren't from the Originals collection, including Sweet Sienna, i asked for it, but they didn't have it!..what a teaser!..another thing that i got from the same collection was Charred e/s. I didn't bother getting it before because in the pot it looks very similar to similar to black tied which i already have, but when swatched on hand, it totally looked different..and i think that will do it for me from the originals. Another eye shadow that i got was Rich Flesh, from the N collection, i was actually looking for a soft brown/taupe color, more for an everyday look, she recommended Rich Flesh, which i was already eyeing too..and i think that'll also do it for me from the N collection. The other stuff don't interest me anymore, i think they were sticking too much to the "theme" of the collection which is NUDE, therefore, they didn't have great color pay-off. Ok on with the haul, it ain't over yet!..i also got three brushes, the 187, 168 and the 252. I actually have the 187LE and the 168LE from the Heirloom Brush set (Holiday Collection), i think they're ok but i feel like quality isn't comparable to the full size ones. For example, the 187LE *which i use to apply my liquid foundation, and MSFs, it's soft alright, but i find that it sheds, not a lot, but it does, and i hate seeing pieces of hair sticking to my foundation, i like it but then again, i don't love it. Next, the 168LE that i mostly use for contour and highlight, i don't really like this one, because it's a bit harsh on my skin, it scratches, and i think it's not as full as i think it should be. A similar brush that i got from CVS is in my opinion better than the 168LE..yep..i love EoB brushes too!..ok so anyhoo, i got the full size ones and oh boy am i happy that i did..enough said!...with the 252, i got it because i've tried using the 252LE that my friend got awhile back, and i like how it picks up a lot of color and packs it on nicely on the lids, i also like that you can use it for powder as well as emollient based products such as concealers, paintpots, cream color base and what-not.

Haul Pics:




Swatches and Comparison:



Left is Charred, next to it is Black Tied. they look really similar, eh?



Again, Charred would be on the left and next to it is black tied. they look similar in this photo and but "in person" they are different, will also depend on the base that you'll use, i actually used bare study p/p under these, maybe that's why they really look the same here, when the MA swatched it earlier in the store, they were really different *she swatched it without any base though*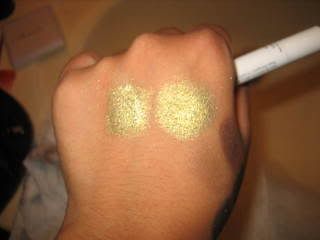 the one on the right is MAC's Golden Olive pigment, to its left is NYX Loose Pearl Mania in Lime, good dupe huh?..i can't even tell the difference..

ok, so i suck in making swatches..sorry


the browns on top of Charred and Black tied, left is Rich Flesh, and right is Handwritten--i don't even know why i put it on there..hehe..no point of comparison. Rich flesh blended right onto my skin, it's very nude indeed.

and my puhhhrrrty $4-dress..


gaaah, i really suck at taking pics..you can even see my feet..lol

so anyhoo, i am happy camper once again. i think i'll have to give hauling a rest for now until fafi comes out, I THINK!