I'm talking about MAC, you sillies..

Now we all know i was frustrated about MAC's new pigment content but i must admit, these are gorgeous colors, but still not worth $20 for a half-full jar. Like what Nessa said, now if they were $10 it would be okay. We can only hope for that my friend..lol

So here are some looks I came up with using my newly acquired pigments..

Look #1 Heritage Rouge
I fell in love with this pigment when i swatched it at the store. I was first hesitant to get it since i THOUGHT Cranberry e/s looks like it, i swatched it side by side though and they don't look similar at all..Heritage Rouge is a winner in my book..Uber-pigmented! It is a very rich burgundy color. Now, this may tend to look a little vampy or goth-ish, so be careful with what you'll choose to wear with it (shadows, lip color, blush)..Mine almost looked a little too vampy..

Face: MAC
Mineralize Satinfinish
Studio Finish concealer
Select Moisturecover concealer
MSF Natural
Loose/Blot Powder

Eyes: all MAC unless specified
Soft Ochre p/p
Nice Vice p/p
Heritage Rouge pig. (foiled)
Texture e/s
Black Tied e/s
Carbon e/s
Nanogold e/s (inner corners)
Graphblack Technakohl
Colorstay l/l
Colossal mascara

Cheeks:
MAC Peachykeen Blush (my new favorite)
MAC Positive Charge Richmetal Highlighter

Lips:
MAC Sweet Tooth Tendertone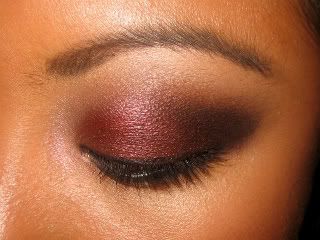 I thought I looked a little goth-ish. My black hair didn't help either..lol






Look #2 Antiqued Green
I love this one too. It's not as vibrant and unique as the first one but you know how much of a sucker I am for teals/green. I also thought this one was close to Teal pigment, but again, I was wrong..I need to be more familiar with my eye shadows..haha

By the way, this FOTD was kind of a waste. I was supposed to go to the club Friday night, I hurried to get ready and all, only to find out my friends cancel right when they were about to pick me up..Don't you just love that?


Face:
Same

Eyes: MAC unless specified
HIP Secretive paint (great as an all over base. better than applying p/p over another p/p)
HIP Steely paint (great black/charcoal base)
Antiqued Green pig. (foiled)
Texture e/s
Cloudburst e/s
Carbon e/s
Shroom e/s
Graphblack Technakohl
Peacock Glitter liner
Colorstay l/l
Colossal mascara

Cheeks:
Peachykeen blush
Positive Charge rm/h
Too-Faced Sun Bunny

Lips:
MAC Sweeth Tooth t/t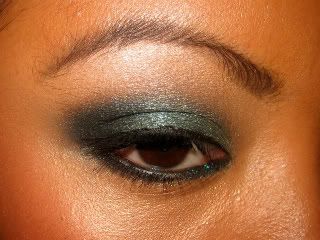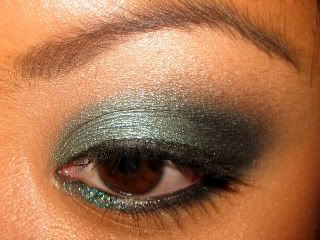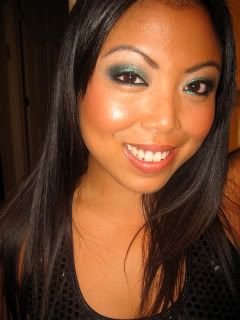 Look #3 Gilded Green
Now I know this is a lil bit late. I did this look last week but i forgot to take pictures so here's a revisited version. This is the look i wore today..Did i tell you I'm a sucker for greens?

Face: SAME

Eyes:
Bare Study p/p
HIP Steely paint
Gilded Green pig. (foiled)
Texture e/s
SMASHBOX Frame e/s
Carbon e/s
Gold Mine e/s (inner corners)
Graphblack Technakohl
Colorstay l/l
Colossal mascara

Cheeks:
Too-Faced Sun Bunny
MAC Hipness blush
MAC Pearl CCB

Lips:
High 90's s/s
Pink Grapefruit l/g

WARNING: I tend to cam-whore when i like the outcome of the look

Pardon the brow mess..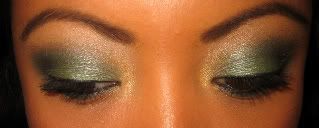 My hair wasn't done yet..OOGLY



Oh, I am starting to love my skin again, thanks to my good friend, Ly-na



This was taken when I got home from work..You can tell by the oil spill on the face, but i just wanted to show that pigments are crease-free when foiled, mind you it was very HUMID today..so, good job!





Btw, I didn't get any of the quads from the Cult of Cherry collection. they were blah to me. Nothing special. The only stuff i picked up from this collection was Jampacked l/g and Lightly Ripe l/s. And the 2 pigments from Overrich. I was going to get Museum Bronze pig. but for some reason they didn't get that one. I also might go back for a couple more lippies from the Cult of Cherry, any recommendations on what the MUST HAVES are?

Holla!

♥
MaNdi