EDIT: THIS WAS SUPPOSED TO BE POSTED LAST MONDAY
i just didn't have the time to take pics of THE haul. So now here it is, soooo long overdue!..


As i've mentioned in my past blog, i was going to haul more FAFI last Sunday..and i did!..yay!!.. :) Rocky and i started our day early. We wanted to do a lot of stuff since it's the first WHOLE day we're together since he got back from Louisiana *yep, he was gone for 2 weeks for his military training, it was such a bummer since i was alone for Valentine's, well the other baby kept me company..lol, but he's back, it's all good now!*..So we went to Scottsdale, of course for MAC. Again, i had stuff put on hold the day before, 'cause i am always afraid that they'll run out of the stuff that i want. We entered MAC and they all knew who we were..haha..they know me as the girl who's addicted to MAC and who's there every weekend, and of course the boyfriend who supports the girlfriend's addiction..hehe..Rocky was so shy, the MUAs were just like "you're back", Rocky whispers "Gosh Dang we're like freeeaking celebrities here..hahaha..lol..SO anyhoo, they take out my bag of goodies, i was so excited, it wasn't as big as the one i had last week though since i already got most of the stuff..then excitement ended shortly after when they said, we're out of the Verve-a-cious IPP..oh how i hate it when i had the chance to get it, but i didn't then when i finally decide to get, it's sold out..i am so pissed with myself..I had them call the other counters in the area to look for Verve-a-cious but they were all out as well..I then took matters into my own hands, i asked for the number of the MAC counter that was nearer to my house, i called, they said they have 2 left, i was soooo happy we drove back to out city to go to that mall..only to find out..IT WASN'T ACTUALLY THE COUNTER THE MA TOLD ME IT WAS..and to make it worse, it was actually the counter which was in the same mall we were..i was sooo mad..and since i didn't want to drive back there *it's kinda far* i called another counter not too far from where we were..and to no surprise they didn't have it either..my last resort, the counter that's like 2 minutes away from our place, they probably don't get as much customers as the other counters i usually go to..they still had a few left, i, all of a sudden felt relieved *sigh for relief*..i almost missed out on that one..we immediately went and picked up my very hard to find Verve-a-cious IPP..gaah..i was sooooo HAPPY!!!..Kudos to the boyfriend who drove me around, didn't give up 'til we found it..This is one of the countless reasons why i love him..He's always there for me even for make-up hunting..lol

On with the pictures:
Fafi Part Deux:
Iridescent Prseed Powders:
Belightful
Verve-a-cious

Lipsticks:
Strawbaby
High Top
Fun -N- Sexy
Utterly Frivolous

Lipglasses:
Totally It
Squeeze It

Fafinettes:
Ermine
Eriko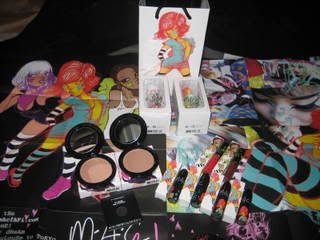 My Fafi Collection altogether..yay!



and that's it.. i don't think i'll be hauling anytime soon..