i know i have mentioned in my post way back that we were getting a dog..i actually feel bad that i haven't talked about her here, haven't even posted any pictures of her..so this post is dedicated to our baby..

HAPPY 3rd..uhm..well..MONTHSARY?

She was born in November 21, 2007

We got MICHIKO, (that's beauty in Japanese) when she was about 6 weeks, just big enough for her to be separated from her mommy..me and the bf, guilty as charged for spoiling her, from COACH collar to toys, treats, the best not to mention, expensive dog food and of course her cute outfits..i will get her a bed soon..i think she's old enough to have her own bed..

She is just the cutest..i won't exchange her for the world..even if that means i'd have to clean her pee and poop all the time..lol..She is also the sweetest, when i get home from work, she would be all over me, kissing - licking, cuddling and all the sweet stuff..i love her so much!..she may be a brat sometimes, but it's okay, the bf's more of the disciplinarian, and i am more of a spoiler, so everything balances out..hehe..Let me tell you, having a dog is like having a real baby, when i work and leave her by herself, i couldn't to go home and be with her..Last week, she fell in my friend's pool, i don't know how, but she did..and i just ran as fast as i could, and got her out..i just found tears in my eyes..i was so frrrreeakin worried!..i would spank her if she doesn't poop and pee on her pad, but after a second i'd be kissing her and saying sorry..i know, bad parenting..lol..but anyhoo, you get the idea..she is spoiled..hmm..and fat too..she is kinda big for 3 month-old puppy..she weighs about 9 pounds..hehe..so without further ado i introduce you our baby..MICHIKO..

this was around the 1st few days we got her..



me *without make-up*..the "motherly" shot..



my cutie patootie..



the bf holding the baby while driving..uh..duhhh!..lol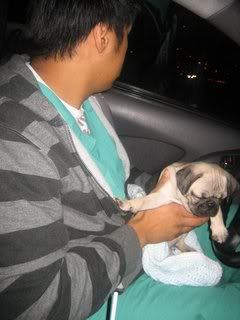 with her Uncle Romeo..who always likes to mess with her..




baby has to have her COACH too..



And now she's all grown up..

High Five!



the only blue-eyed baby i'll ever have *the bf and i are both Filipinos*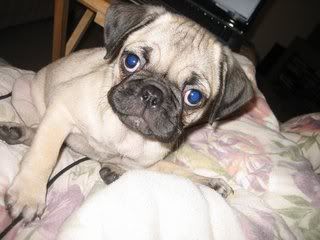 unlike mommy, she's no cam-whore..her paparazzi shot..



too cute for words..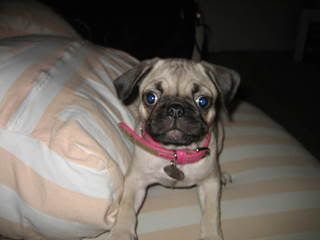 Michi sleeping beside her bestfriend, my friend's dog Tiffany..



Them playing



isn't she the cutest?