EDIT: So i was browsing through Specktra.net then i read info about eBay seller diamond*stars (which i gave credit for the Heatherette photos posted on here). Apparently the products (Heatherette) that she was trying to sell on eBay were actually samples given to her at a press event to review on. OOPS..
i actually checked back on her account and was surprised that she ended the auction for those products.


I was still half asleep while i was doing my daily rounds this morning..Then i go to Pursebuzz.com and boy was i awakened with Heatherette pictures..i SERIOUSLY gasped for air when i saw these..lol..I think from the time we girls knew about Heatherette, we've only seen this picture..


SUCH A TEASER, right?..

not until today that i've seen pictures of actual products..mind you, info and pictures, again were taken from Pursebuzz.com and eBay seller diamond*tears..

Pursebuzz hooked us up BIG TIME!

Release date: March 27th

Lipsticks: $14


From Left to Right: Fleshpot, Lollipop Loving, Hollywood Nights, Lollipop Loving, Melrose Mood, Hollywood Nights

Lipglass: $14

LtoR: Bonus Beat, Style Minx, Starlet Kiss, Sock Hop, Bonus Beat, Sock Hop, Starlet Kiss
Eyeshadow Trios: $32.50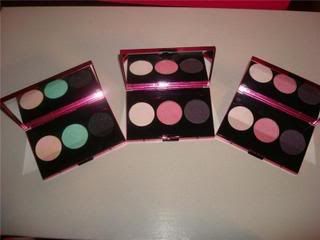 Trio 1- Mood Ring (VP) - Pastel mint green (LE)
- Cloudburst (V) - True black w/subtle green pearlized pigments (Repromote from Blue Storm) (LE)
- Hoppin' (F)- Pastel peach (LE)
Trio 2- Baby Petals (S) - Pastel pink (LE)
- V.I.P. (V) - Mid-tone yellow pink LE)
- Cassette - Blackened eggplant - (LE)
Pigments and Glitters:
Pigments: $19.50
- Jardin Aires (F) - Gilded peach w/ silver reflection (LE - Repromote from Strange Hybrid)
- Pink Pearl - Mid-tone pink w/ blue reflection (Pro)
Glitters: $16.50
- Reflects Gold - translucent glitter w/ gold reflection (Pro)
- 3D Silver - Multi-reflective silver (Pro)
Dual Edge Pencils:$16.50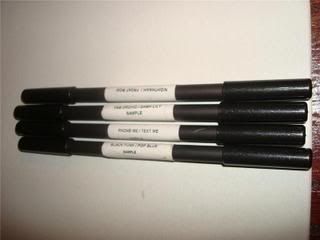 Black Funk/Pop Blue - True black/turquoise w/ silver glitter (LE)
- Phone Me/Text Me - Charcoal grey/metallic silver w/ silver glitter (LE)
- Nighthawk/Front Row - Coffee brown/neutral peach w/ gold glitter (LE)
- Fab Orchid/Dash Lily - Jewel-tone purple/mid-tone lavender w/ silver glitter (LE)
Beauty Powders:$22.50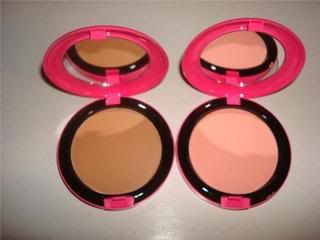 Left - Smooth Harmony - Medium golden bronze (LE - Repromote from Icon II: Diana Ross)
Right- - Alpha Girl - Pink w/ gold nuances (LE)
Nail Lacquer (not pictured): $10
-Lola Devine (C) - Soft mid-tone coral (LE)
- $$$$$ Yes (F) - Metallic silver foil (pronounced "Cash Yes")
Lashes (not pictured): $11
- She's Good - Similar to #7 (patent finish)
- She's Bad - Fishnet texture (patent finish)
Carrying Case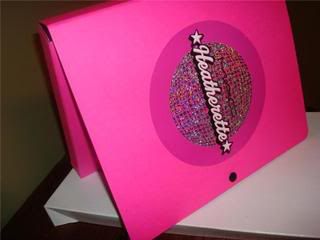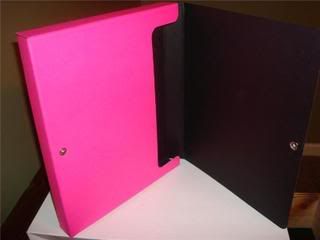 Hmm..so how many paychecks after Fafi and before Heatherette?..*whew*
so what do you think about this color story?