I went to MAC today to get my Fafi!.. : )

The long wait is finally over..i can't even remember when i first found out about this color story, but i am damn sure it was a long time ago *thanks to fellow bloggers, Pursebuzz and of course, Specktra*. It kinda sucked that i wasn't able to get 'em on the release date itself, because i had to work and the free standing store is a bit far from us. But. everything's okay now, i am happy.. : ) ..
So i mentioned in my last night's entry that i called MAC last night to have the stuff on hold to also make sure that my MA gets her commission..so i entered the store, i looked for Hilda *the girl whom my MA endorsed me to* and she brings out this big bag filled with the Fafi stuff with my name on it..i just heard the heavens sing..not as loud though when i went to the Pro store in Vegas, but you get the idea.. hehehe..My MA, Christine, had each and every single item from the collection on hold for me..lol..i was just suprised. :) Then, i also had my make-up done, good thing they weren't fully booked today, or else i would've been so disappointed since i really wanted that freakin' cute heart painted on my face. : )

Hmm..so the stuff that i got..Hmm..i KINDA got carried away..tsk..i know most of you ladies were disappointed with this collection since colors weren't as vibrant as the packaging, some were even disappointed with the packaging itself since the design wasn't painted but were just stickers..But here i am thinking, "well, since i'm collecting, might as well, get most of the stuff"..and it can't be that bad, right..MAC is still MAC..if that makes sense. I mean, i was already all giddy and excited about this collection to pass up on most of it..I was also surprised that everything that i got was under $300..well, that's for Fafi alone..and another $30 something for 1 blush and an eyeshadow refill pan..

here are the pics:

of course i had to take a picture of the display..which weren't complete at that time..But it still looks pretty!



My Haul.. : )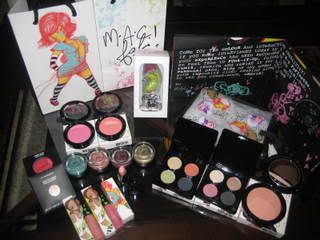 Fafi:
Fafi Eyes 1
Fafi Eyes 2
Hipness Blush
Fashion frenzy blush
Sassed-up Iridescent Pressed Powder
Nice Vice p/p (which is already sold out in the website)
Cash Flow p/p
Rollickin' p/p
Perky p/p
Not so Innocent l/s
Sugar Trance l/g
Cult Face l/g
Fafinette-Monoka
Fafi Make-up bag

Non-Fafi:
Frankly Scarlet (one of the MAs told me this will be discontinued then another said they will be exclusive to Pro stores only)
Blanc Type refill pan (i am really digging Mattes these days)

I'm thinking of going back to get one more IPP and a few more lipglasses and lipsticks.. : )

More Camwhore-ing: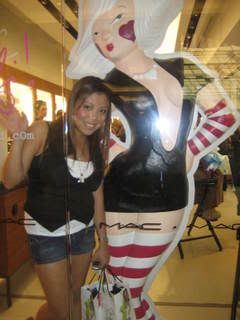 and the makeover:


i only took one picture since i honestly think the look that she did on me wasn't that good.. : ( but of course, gotta love the heart!