EDIT: this was supposedly last Tuesday's post

yep..you read that right! three and a half furrreeeakin hours late..that's like the worst ever, i know i have this BAD habit of being late, but gaaaah! 3 1/2 hours is BAAAAD!!!..i slept in, that's why..i was supposed to wake up at like 5am 'cause i work at 6 but when i woke up, the sun was already out, without even looking at the time, i knew that i was already LATE!..so i immediately called my co-worker, then the boss, i told him the truth of course, and he just laughed at me..hehe..today was like really a short day.

i did a super duper mini MAC haul today. Pursebuzz's review on the N collection made me want to get another Light Flush "with more veins", she said, for more shimmer. After i saw her video, which was like late last night, i was itching to go to a MAC store and pick one from their stock with a lot of veins. so after work, i got ready, and headed to the mall..Since we're pressed for time, as always 'cause the bf's working tonight, we went to the nearest one, the MAC counter that i really don't like going to, but i had no choice it's either i go there and get it today or wait til this weekend. we get there and i explain to the MA what i wanted, that i already have one, blah blah blah and i want the one with a lot of veins, and she looks at me all weirded-out like, "what is this girl talking about?" blah blah blah until she understood what i really wanted, she brought out like 5, and had me choose, they all looked the same though, she even explained to me that i usually get to the shimmer-y part after i break down the first layer, but i was like "well, then i'm still getting one for back up, maybe" i just ended up picking the one that had the biggest crack (vein).. and i also got 1N, as ya'll know, i am not a fan of lip stuff, but i really dig nude shades.. :) i guess that's REALLY it for me from this collection, i know i've said that in my other entry but oh well, i promise, that's it!..

hmm..i had my hair cut today too!..after 92040287 years of not having style to it, i actually had the courage to go the salon and have it cut..lol..the last trim that i had was ages ago and was done by no other than the bf!..hehe..so this was a big change for me.

okay..so i've been doing neutral looks these past few days.. maybe 'cause it's so much easier and faster to do than colorful make-up. i think, neutral eyes don't need much blending, eh? i am so loving neutral looks!!

i was looking through the pictures and all three looks look the same, sorry in advance for boring you with these looks..hmm..and yea i wear liquid foundation now more often than i used to because the boyfriend always comments that i should do something more with my face than just concentrating on my eyes. hehe..weird, but yea, i always take everything he tells me in to consideration.

Sunday's FOTD:

Face:
MAC Mineralize Satinfinish in NC37
Maybelline Mineral Concealer
MAC Studio Finish Concealer in NW 30
MAC Loose Blot Powder in Medium Dark

Cheeks:
MAC Blush Creme in Maidenchant
MAC MSF in Light Flush (love love love!!!)
MAC Sculpt & Shape in Accentuate/Sculpt

Eyes:
MAC Cream Colour Base in Pearl
MAC e/s in Shroom (lid to brow bone)
MAC e/s in Rich Flesh (N collection; outer v blended onto the crease)
NYX Suede e/s (brows)
L'oreal HIP cream liner in Black (upper lashline)
MAC Technakohl in graphblack (waterline)

Lips:
NYX in Killer Lips




i love Mineralize Satinfinish, note: i have the "monthly break-out"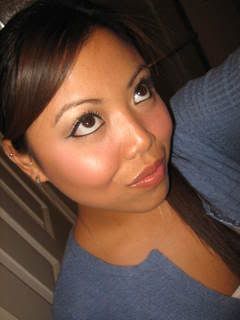 Monday's FOTN
Face:
Exactly the same as Sunday's

Cheeks:
Same as above too only instead of S&S powder, i used NYX blush in Cocoa to contour

Eyes:
MAC Bare Study p/p
MAC Vanilla Pigment (lid to brow bone)
MAC Rich Flesh (outer v to crease)
MAC Shroom i think or Ricepaper (highlight)
NYX Suede e/s (brows)
L'oreal HIP cream liner in Black (upper lashline)
MAC Technakohl in graphblack (waterline)

Lips:
Same as above also but mixed with
MAC Viva Glam V

i don't have a face shot so i'm posting a picture with bf instead, that's the closest face shot i have..other pictures were retarded..again..lol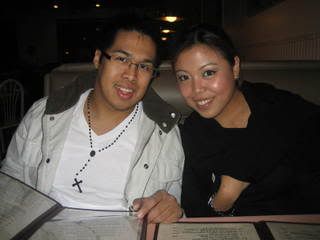 Today's FOTD
it was today that i first tried using Maybelline Mineral Liquid Foundation, and i am really happy about the outcome. At first i was kinda skeptical of buying this 'cause of my bad experiences with drugstore foundation in the past. But, after reading Vanessa's review on this product, i just felt like i have to try it. Thanks Vanessa! So, what i think about the product, I like how they have testers for it, drugstore make-up never had any until now, it is SUPER hard to pick the right shade if there aren't testers, since *for me* they all look the same in a sealed bottle. Maybelline also offered a wide variety of shades, enough, i think to match any lady's shade out there. I got Natural Beige which was a bit dark with strong yellow undertones, i swatched it on the back of my hand and it just blended with my skin color, so i was like, "i found my match"..LOL..I was so excited to use it today, so when i got home from work, i "played" with it..I love it even more applied with a 187 brush. It just felt so natural, and the coverage is amazing. You'll see in the pictures. And ooh, i also got the Powder form, i haven't tried it yet, but can't wait to see how that one goes.

Face:
Maybelline Liquid Foundation in Natural Beige
Maybelline Mineral concealer
MAC Studio Finish concealer in NW45
Nichido Loose powder in So natural

Cheeks:
Revlon Pinch Me in Cheeky Cherry
MAC Light Flush MSF
NYX Blush in Cocoa (contour)

Eyes:
MAC Nano Gold (N collection);it looks really nice in the pot, but used, it barely shows the color
MAC Rich Flesh N (N collection)
MAC Shroom (highlight)
NYX Suede (brown)
NYX Suede e/s (brows)
L'oreal HIP cream liner in Black (upper lashline)
MAC Technakohl in graphblack (waterline)

Lips:
i have to check later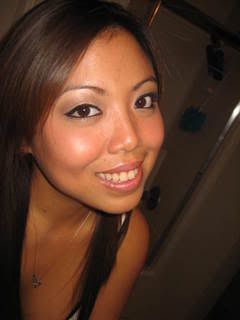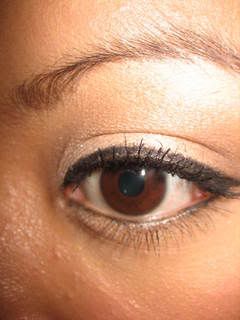 and my new hair cut




The bf said that i should do something different, play with more colors. So, i'll probably do a more colorful look one of these days.

mwahmwah

♥
MaNdiLicious