How was yours?..mine was kinda hectic..
i had to wake up extra early to get ready for a Birthday party at 12 noon..so i did..then i found out, it was moved to 2pm, then i couldn't go because i had to do my friends' make up at 3, and i ended up going there at 6pm..yep, Filipino parties last the whole day. anyhoo..i thought of sharing some pics with you:

me "feeling" like a pro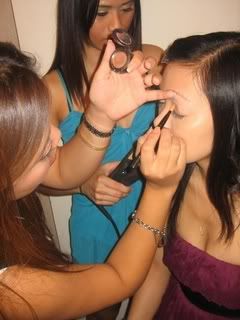 the finished look: she wanted a natural look..



we forgot to take a full face shot..sigh*..


hair done by em

products i used on her: ("model's" own)

face:
cinema secrets cream foundation
BE mineral foundation
Cover Girl loose powder foundation (final powder)
BE face color in warmth (used for contour)
Cargo blush in Louisiana (on the apples)
Smashbox Highlighter (on top of Louisiana)

eyes:
Maybelline brown eyeshadow (brows)
MAC paint in Bare Canvas (base)
MAC e/s Woodwinked (lid color)
MAC e/s Embark (outer v and crease)
MAC e/s Ricepaper (highlight)
Maybelline eyeliner (similar to MAC's technakohl:upper lashline)
Maybelline liquid liner (on top of pencil liner)
Maybelline Define-A-Lash mascara

Lips:
MAC lipglass clear?..im not sure..lol

i also did her sister's make-up that same day, products used were almost the same, except for the lid color which was a lime green shade

here's an eye shot:


i don't think the green came out vibrant though

and here's a solo picture..sorry for the poor quality (i'd know better next time)



so what else did we do that hectic night?..gaah..we had a spontaneous road trip. we had to bring em to another party she had to go to..it was so effin far!..the area isn't developed yet..no traffic light (well, we only saw 2)..no establishments close by..it was so scary..we were like in a remote area..haha..and to top it off, the highway was called HUNT HWY..scarrrrrry!..

anyhoo..that Saturday was really tiring..