Let's discuss the much-raved about L'oreal HIP cream eyeliners. Walgreens had a BOGO free promo on the entire HIP line, i was only interested with the cream liners. There are 5 colors, i only got 4..teal, midnight blue, black and violet. i didn't care too much for the brown..i heard so much about this product, mostly good things. let me share you what i think about them. They are often compared to MAC fluidlines because of a few things. One could be the packaging as it may look like a bigger version of MAC fluidlines or maybe just a regular paintpot. L'oreal HIP cream eyeliners are smudge-proof like the fluidlines, and both require a brush for application. These cream liners may be a little too pricey for a drugstore brand. They're like $10+ dollars per pot of .16 oz, but if you really think about it, compared to a MAC fluidline which is .01 for $15 plus tax, these cream liners are a steal, plus don't forget the angled brush that comes with it. i think a .16 oz pot will last you forever, well maybe not, but a long long time.

They go on really creamy, they are very easy to apply. a little goes a long way. The brush is ok too, it may be a little stiff but i think it's ok especially when you're on a budget, you won't have to spend extra mullahs for a brush.

all in all, i like this product and i will definitely buy it again--that is if i ever run out, which i doubt.

i want to share you some photos of what i got and swatches as well..

they really look vibrant in the pots. yummy.. you can see brush marks..lol, i swatched them as soon as i got out of the store...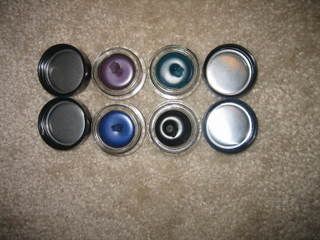 swatches:

left to right: Black, Midnight Blue, Violet and Teal
w/o flash



w/flash..they have super fine glitters but not much that it would look like a shimmer-glimmer liner..they're like matte with a lil bit shimmer..eh?..weird explanation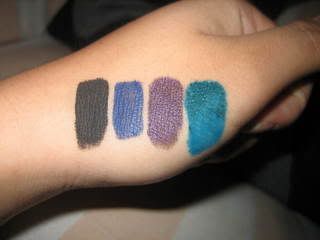 Hope this helps. Thanks for looking.