..was only a day after my first. i must tell you though, this wasn't planned at all. i just wanted to visit the MAC at the new mall in Gilbert. *duh!! like it's going to be any different from the one i always go to..haha..anyhoo, an MA which is also a trainer for all MAC stores in Arizona, offered to do my make-up. . She recognized me, **she was also at that other store where i got my 1st makeover..
So, she sat me down and started applying make-up on me. She would explain each and every step she did. The look that she wanted to achieve was subtle, concentrating more on having a perfect complexion..doing highlight and contour..her words "you know when people look at you, they compliment your MAKE-UP, this look, they look at you, they close their eyes and what they remember is how beautiful you are"..loves it..

products she used on me:

Skincare:
wipes
Moisturizer: strobe cream

Face:
Studio Fix Fluid in NC40 (applied using 168)
Studio Stick Foundation in NW 45 (contour, applied with 168 as well)
Studio Touch-Up Stick in NC 15 (highlight, finger)
Blush:
Sweet William blushcreme

Eyes:
Lingering (brows)
Metal-X shadow Pure Ore (finger used)
Cork (crease; 224)
Blacktrack Fluidline (upper lashline; 209)
PlushLash

Lips:
BBQ pencil
High Tea l/s

The Face Chart: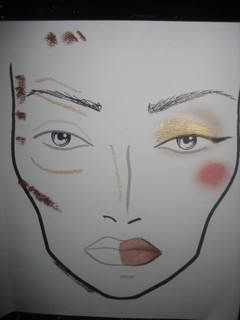 The Face: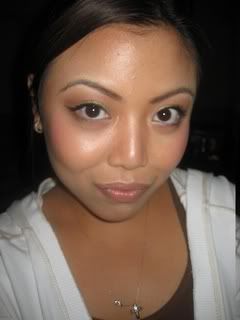 the famous creasing shadow: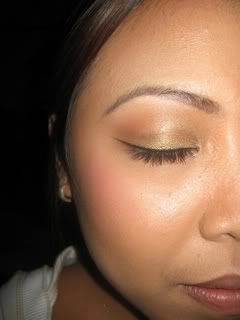 my thoughts:
this makeover is super different..meaning, a look that i am not so much used to. First, the foundation gave me full, THICK coverage which was really new to me since i just started wearing foundation, and i prefer, light application. Then, the contour which was like 92740 shades darker than mine, looked weird for a second, but it came out pretty good. the whole look was very simple, not too much colors used but turned out pretty. One thing i didn't like was, that she didn't use a setting powder of any sort, so it felt really icky..and looked oily, i don't know if it was really supposed to be like that, but i personally didn't like it. ooh and also the metal-x shadow creased on me big time, well probably to most of you too..i had high hopes for this collection 'cause of the beautiful vibrant colors, i was diappointed. i ended up getting only one which was Fusion Gold, that i think i'll use as highlight colror. i want to get maybe a couple more, but i'm not sure yet, i might have to read on more "remedies" for these cream shadows.

oh..the semi-haul (not pictured):
217 (does wonders, hard to clean though)
Metal-X Shadow in Fusion Gold
..that's it!..i know..Congratulations to me..haha

anyhoo, i have been busy lately..tired most of the time, work work work.. it has been a long time since my last post..i even forgot that i had my own blogspot..lol..i'll try to update more often.

also, i changed my blogspot name--AGAIN--back to the first one..gaaaah i can't seem to make up my mind..

*yawn*

have two more entries i want to finish tonight..hopefully, i get to do it.