**EDIT** MORE FOTDS!

WHOOPSIES!..I accidentally deleted my previous post, "A Quick Update"..Darn!

Anyhoo, I am so happy that we are done moving and putting away stuff!..whew! *wipes forehead*..We still have to buy a lot of stuff for the house though, but now i'm just contented that we won't be coming home to a mess anymore..:)

Naughty Nautical looks

I wanted to post these before Cool Heat came out, but oh well, hectic week, hectic week..sorry for the delay!


Look #1
Stowaways Quad

I mainly got this quad because i didn't have Satin Taupe yet and also the finishes of the other e/s weren't bad either..I love quads, i think they're no-brainers!..Most of the time, the colors in the quad are very workable with each other, no need to think of what color combo to do!

sorry no full face shot for this one

EYES: all MAC unless noted
Bare Study p/p
Stowaways Quad (all 4 colors)
::Crest the Wave
::Awash
::Satin-Taupe
::Sea Cadet
Graphblack Technakohl
Too-Faced Lash-Injection Mascara




i know..it creased!



Look #2 Submarine

Face:
Maybelline Mineral Liquid Foundation
Maybelline Mineral Liquid concealer
Nichido Loose powder

Cheeks:
I TOTALLY FORGOT!

Eyes: all MAC unless specified
HIP paint in Secretive
Smooth Blue technakohl used as base for-
Submarine e/s
Handwritten e/s
Lark About p/m
Graphblack Technakohl
Smooth Blue Technakohl (lower lashline)
HIP black cream liner
Covergirl Lashblast

Lips: MAC
Buoy o Buoy l/s
Bateaux l/g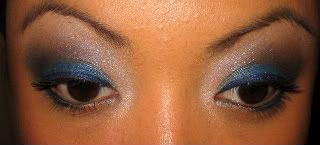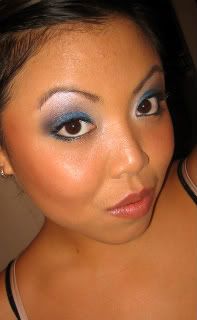 Look #3-which i think i'll never wear again
FACE:
Mineral Liquid Foundation "Natural Beige" mixed with,
Aveeno SPF 15 Moisturizer
MAC Select Moisturecover "NW 35"
MAC Loose blot powder "Medium Dark"

Eyes: all MAC unless specified
Soft Ochre p/p
Rimmel White Kohl liner (also used as base)
Lark About p/m (foiled then applied dry as highlight)
Mutiny p/m
Submarine e/s
Smooth Blue Technakohl
HIP cram liner "Midnight Blue"
Maybelline Great Lash

Cheeks:
MAC Sweetness BPB (i think)

Lips:
Buoy o buoy l/s
Bateaux l/g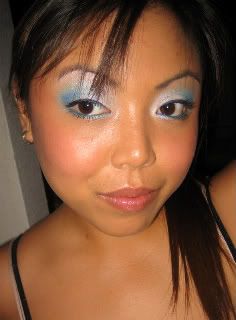 pucker it up!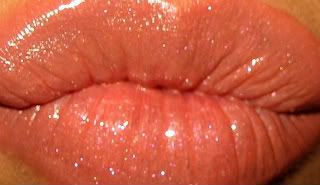 Look #4 My Favorite Color combo

FACE:
Maybelline Mineral Liquid Foundation mixed with Aveeno SPF moisturizer and MAC Strobe cream
MAC Select Moisturecover concealer
MAC Natural MSF in Medium Dark

Eyes: all MAC unless specified
Bare Study p/p
Other Worldly p/p
Mutiny p/m
Illegal Cargo e/s
Fertile e/s
Carbon e/s
Shore Leave e/s
Vellum e/s
Graphblack Technakohl
Lingering brow pencil
HIP black cream liner
Too-Faced Lash Injection

Cheeks:
MAC True Romantic BPB
MAC Pearl CCB
Too-Faced Sun Bunny Bronzer

Lips: MAC
Fleshspot l/s
Starlet Kiss l/g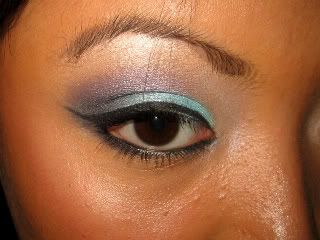 the pepto bismol lip color made my teeth look yellow!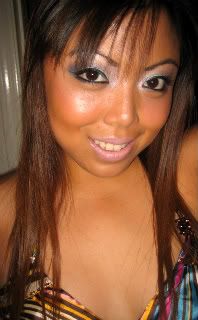 i cam-whore a lil bit.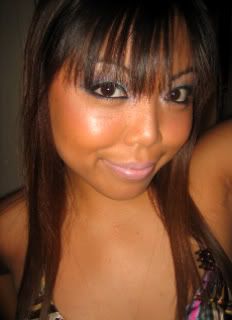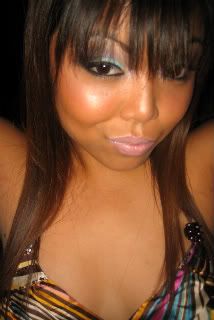 Look #5 Neo Sci-fi kinda
Magnetic Fields is loooove!
No Full-Face shot

Eyes: all MAC unless specified
Bare Study p/p
Cash Flow p/p
Evening Aura e/s
Magnetic Fields e/s
Goldmine e/s
Woodwinked e/s
Carbon e/s
HIP black cream liner
Too-Faced Lash Injection
Red Cherry faux lashes (which i sucked on putting)

My liner jacked up..sorry! and my eyeshadow creased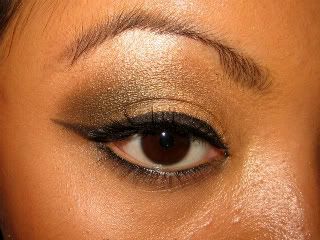 i'll post a better Neo Sci-fi look soon..

Look #6 Gold and Black
Face:
same as previous FOTDs

Eyes: all MAC unless specified
Bare Study p/p
Cash Flow p/p
Goldmine e/s
Black Tied e/s
Carbon e/s
Ricepaper e/s
Graphblack Technakohl
Lingering brow pencil
HIP black cream liner
Too-Faced Lash Injection

Cheeks:
MAC Spaced Out blush
MAC CCB Pearl
Too-Faced Sun Bunny Bronzer

Lips:
Buoy o Buoy
Comet Blue d/g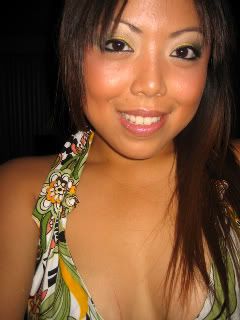 There you go, my super overdue FOTDs..

Thanks for looking!

♥
MaNdiLiCiouS