EDIT: This is last Monday's entry.


I stayed home alone all day yesterday, Rocky was in his military training. I got sooo bored i started watching Stephie's old videos and decided to recreate her C-Shock Look. However, i wasn't into MAC yet when this collection came out so i just used eye shadows which i thought came pretty close, from MAC as well. I forgot that i purchased this Non-MAC palette from some goth store awhile back which houses C-Shock dupe colors, i only realized i have this palette when i was almost done, and was just looking for a fuchsia e/s to line my lower lash line with. Dang, i own too much make-up, i don't even remember anymore what i have.. But yea, i will recreate this look again next time using just that palette..

Also, as much as i like how the eye make-up came out, i hated the face..i chose not to wear foundation, and wore just plain ol' loose powder instead..WRONG MOVE!..i think i applied too much concealer too..and with the help of NYX 629 power l/s, i totally looked dead..as in rotten dead..gross..oh and yea..break out galore too!

Inspiration:



My Take:

Products Used:

FACE:
Maybelline Concealer
MAC Loose Blot Powder in Med Dark

EYES: (all MAC unless stated otherwise)
Bare Study p/p
Pharaoh p/p
Other Worldly p/p
Overgrown e/s
Swimming e/s
Bio Green e/s
Blue Calm e/s
Flash Track e/s
Shockwave e/s
Frankly Scarlet blush (lower lash line)
Hot Topic Yellow e/s(outer lower lash line)
Hot Topic Fuchsia e/s *from the same palette* (inner lower lash line)
Graphblack Technakohl

L'oreal HIP liner in Eggplant (i think..the purple one)
Maybelline Define-A-Lash
NYC Falsies

Cheeks:
Milani Luminous
MAC Sassed-Up IPP

Lips:
NYX 629 Power..then i changed it to
MAC VG 5 i think..it didn't match the look either..so i again changed it to..
MAC Fun N Sexy and Totally It L/g..lol..CRRRRAZYY!..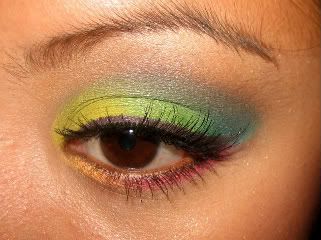 ok, think Psycho movie theme..tan tan tan tan..or ek ek ek ek..with NYX l/s



ViVa Glam l/g



Now, with Fun N Sexy l/s and Totally It l/g



hmm..random pic of MAC Fafi Hipness blush and Milani Mai Tai blush, i just thought i'd share..Vanessa did a look using Mai Tai, and of course, me likey so i buyee!..they may not be super similar since Mai Tai is more orange-y than Hipness, but it's pretty darn close..



i have a couple more posts i have to finish..
FAFI face using Fafi Eyes 2
MY 5 must NOt haves..

So 'til next post..it's already exactly 4:00am..gotta hit the sack!..nyt!

♥
MaNdiLiCiouS